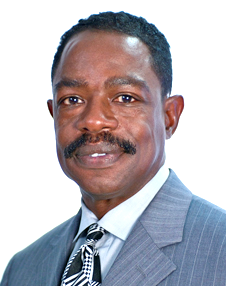 Pastor Jimmy L. Ferguson is a native son of Greenwood, Mississippi, located on the eastern edge of the Mississippi Delta.  The fourth of eleven children, at age 16 Pastor Ferguson moved north with his older brother to Chicago, Illinois in hope of better educational opportunities.  The following year, he became a baptized member of the Seventh-day Adventist Church.  In 1979 Pastor Ferguson enrolled at Shiloh Academy (Greater Chicago Academy), and graduated with the class of 1982.  He later enrolled and graduated from Oakwood College (now Oakwood Unitersity) with a Bachelor of Arts degree in Theology and a Minor in Biblical Languages in 1990.  He successfully completed post-graduate ministerial training in 1993, acquiring a Master of Divinity degree from Andrews University Seventh-day Adventist Theological Seminary, (Berrien Springs, Michigan).
Pastor Ferguson has travelled through South and Central America, Mexico, Curacao, the US Virgin Islands, Bermuda, Jamaica, Bahamas, England, Belgium, Dakar, South Africa, Zimbabwe, Kenya, Liberia, Japan, Philipines, Ethiopia, Tanzania, Rome and Hawaii.  Preaching and conducting evangelistic campaigns on most of these international visits.
Pastor Ferguson's official ministry began as an associate Pastor of the Dupont Park S.D.A. Church.  He was then appointed Senior Pastor of the Cherry Hill and First Maranatha Seventh-day Adventists Churches in Baltimore, Maryland.  In 1997 he was assigned to the Germantown S.D.A. Church in Philadelphia, PA where he served until 2004.  Pastor Ferguson was then appointed as co-pastor of the Berea Temple of Seventh-day Adventists Church in Baltimore, Maryland, where he effectively engaged in ministry until 2008.  InFebruary 2009, Pastor Ferguson assumed responsibility as Senior Pastor of the historic Dupont Park Seventh-day Adventist Church in Washington, DC where he served until May 18, 2013.
Over the years of his ministry, Pastor Ferguson has baptized hundreds of precious souls, planted a thriving congregation in East London, South Africa, distributed and sold thousands of Christian books, and has inspired thousands to a closer walk with Jesus Christ.
At the head of Pastor Ferguson's life is his Lord and Savior Jesus Christ, at the center of his affections is his lovely wife,  Sherren, and their three children, J'Mae, Simeon and Seth.
Pastor enjoys reading, coin collecting, fishing, and thoughtful discussions.
His favorite Scripture is 2 Peter 1:16, "For we have not followed cunningly devised fables, when we made known unto you the power and coming of our Lord Jesus Christ, but were eyewitnesses of his majesty."